Technology Core and Australian Collaboration Cambodia (ACC) have successfully completed their mission to supply and install repurposed HDi Interactive screens across several schools in Cambodia. In all, seven screens of both 65" and 75" screen sizes were installed in 4 schools including primary and high schools as well as a screen in a local university in Phnom Penh. The screens were delivered to Cambodia in late 2022 ready for installs in the various schools.
Please enjoy a recap of our experiences via Max Stevenson's video blog of his time in Cambodia for Technology Core. 
Technology Core's Max Stevenson went to Cambodia to install the screens as well as provide training on how to use them. Now that Max is back in Australia, we talked with him about the trip and how he felt the project had gone. We asked him about the delivery and installation process and if there were any issues in getting the screens in as well as any problems Max had during his trip to provide the refurbished screens to the school.
At each school as Max was installing the screens, they had to prepare the next school's screens as they were sent in one group to the first school they were installed in. Max explains the process of how they delivered the screens to the schools, "We had all the screens at one of the schools already, so we did that install and while we were doing them, we had to load the other screens up on the back of a truck and then they distributed the screens to the other schools as we were doing the work" he says.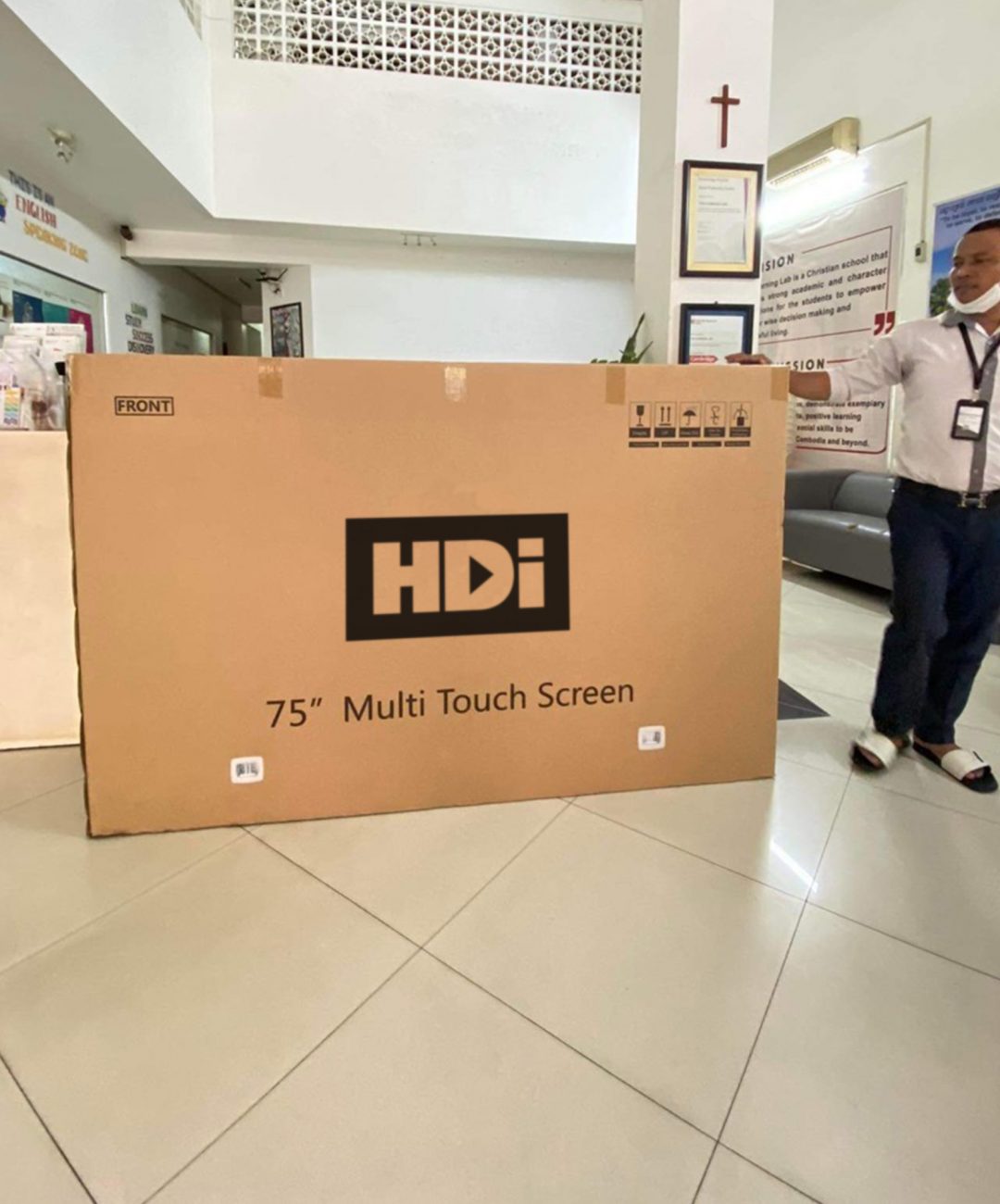 Before the trip, Max was concerned that the installation process would be difficult and that there would be several obstacles in his way that might hamper the ability to get the screens installed easily. However, he feels that everything was "pretty good" in terms of the way the trip went. He elaborates;
He explains that the buildings are mostly concrete boxes that made mounting a screen very straightforward and that the only trouble he ran into was if he needed to remove an existing blackboard.
To help him install the screens, Max was assisted by Veasna Sun who works as a tour guide in Phnom Penh and helped Max on his trip by translating and showing him the places they were working in. According to Max, Veasna was very keen to learn how to install and use the screens and Max feels that we will be working with Veasna a lot more in the future as Technology Core and ACC continue their work in Cambodia. "Veasna watched what I was doing about six times and he asked if he could do the last one, and I said yeah, sure. He also helped with some basic training on using HDi Note, so could really help play a big part in what we do," Max explains.
The main reason Technology Core became involved with the ACC on this project, was to bring technology to schools that are unable to obtain tech for their students and it was important that there would be benefits to doing this for the students there. The reactions to the installs from some of the children at the schools Max visited were something he loved seeing. "The kids obviously were just crawling over the top of each other to get their hands on it, so they were super excited," he says.
Of everything that Max saw and did whilst, in Cambodia, there is one moment Max says that will stick with him. As they pulled up into their first school, he says that they were surrounded by a large group of children excited to see what he was there to do. He explains what happened when they got there. "Honestly, at the first school that we went to, to paint on the first day, there were about 300 students and I reckon all of them swarmed our van. It was insane. We'd stopped and then there were just 300 students all around the van wondering what we were doing and they were asking all these questions, saying hi and everything. There are some videos of that, but I feel like the videos just don't do it justice. It was just craziness, so I think that moment will stick with me for a very long time.
As Technology Core was preparing for the project, we asked Max about some of the fears or trepidation he may be feeling before heading to a country he didn't know much about and how they might cause problems doing the work there. Of the number of things he mentioned that he was worried about, the biggest concern he had was with the possible language barrier and not being able to get the screens safely mounted on the walls. In the end, he says those things weren't really a problem. "Actually, there was a sort of language barrier, but even then, because we had Chris (Carolane, one of the key members of ACC) who knew a lot of Khmer and Veasna, that barrier wasn't really there," he says.
Max feels the biggest issue may be with training the staff how to get the best from the screens as some technical concepts may be harder to explain due not so much to language, but the lack of experience many Cambodians have with the technology and that they are especially lacking in experience in using PCs. It seemed to Max though, that everyone had a phone and with that, they could easily transfer their skills in using the phone to working with the touch screen technology and apps that make use of that. With training being held by video conferencing sessions from the Technology Core's office in Australia, this could be a challenge but one that Technology Core is looking forward to taking on.